It's called, "The biggest party of the summer," and it has definitely provided done excellent moments over the years. With
SummerSlam
just around the corner,
i
decided to take a look back and list my top 5
SummerSlam
matches.

Triple H vs. The Rock, Ladder Match- Summerslam 1998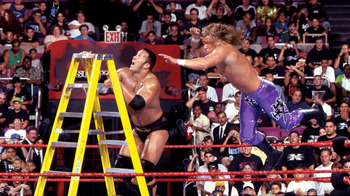 Brock
Lesnar
vs. The Rock, WWE Championship- Summerslam 2002

Bret Hart vs. British Bulldog- Summerslam 1992
TOP 5-
5. Shawn Michaels vs. Razor Ramon, Ladder Match
Year:1995 Duration:25 min. 3 sec.
Winner: Shawn Michaels
This was the rematch from their groundbreaking ladder match from WrestleMania X. Though it didn't live up to the first ladder match, this is still an excellent contest between Shawn and Razor.
4. Bret Hart vs. Owen Hart, Cage Match for WWF Championship
Year:1994 Duration:32 min. 17 sec.
Winner: Bret Hart
Showing off the best that the Hart family had to offer, and it certainly didn't disappoint. Anytime Bret and Owen stepped into the ring together, you knew it was going to be magic. This was an intense and fascinating matchup that was top-notch from start to finish. Even though Bret came out the victor, it further showcased just how great Owen Hart could be.
3.
Hardys
vs.
Dudleys
vs. Edge & Christian, TLC 1
Year:2000 Duration:14 min. 51 sec.
Winner: Edge & Christian
A revolutionary match between 3 of the greatest tag teams that the wrestling world has ever seen. This match, along with their match from WrestleMania 17, is still considered to be somewhat of a standard-bearer for both tag matches, as well as ladder matches.
2. Triple H vs. Shawn Michaels, Street Fight
Year: 2002 Duration:27 min. 20 sec.
Winner: Shawn Michaels
It was the return of "The Heartbreak Kid." Shawn and Hunter absolutely beat the living hell out of each other in this match. Every time these two steps inside the squared circle together, you know there would never be a dull moment. Everyone will remember Triple H hitting Shawn in the back with a sledgehammer at the end of the match. More importantly, it showed that, even after 4 years away, Shawn could still hang and bang with the best of them.
You want to talk about a clinic match, these two showed how wrestling should be done. We all know how incredibly gifted these men were in the ring, and it's a great example of the lineage and importance of the Intercontinental championship. Even more impressive is the fact that
Hennig
had some significant back issues during this match. This still remains as one of my favorite matches in history, and the content speaks for itself.