WrestleMania. The very mention of this show instantly triggers tons of fond memories. This annual event has provided a plethora of historical moments in the world of pro wrestling. Here are my top 5
WrestleManias
.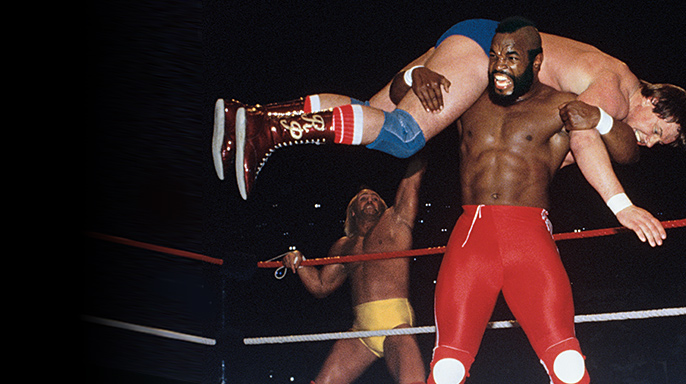 Date: March 31, 1985
Venue: Madison Square Garden, New York City, New York
The one that started it all. Possibly the biggest gamble in the history of pro wrestling, as a show of this magnitude hadn't yet been attempted. Vince McMahon pulled out all the stops in packing the show with as many top stars and celebrities as possible. The main event saw Hulk Hogan and Mr. T face Roddy Piper and Paul
Orndorff
, with Muhammad Ali as the special enforcer. This was the catalyst for everything we know today.
Next on the countdown saw WrestleMania come home 20 years later, where it'll all began. Looking back on it now, this entire show was pretty stacked. It saw the WrestleMania debuts of Randy Orton, who tagged with Evolution to face the returning Rock-N-Sock Connection, as well as John
Cena
, who defeated Big Show for the United States title. It also saw the departures of Goldberg and Brock
Lesnar
. It culminated with a tear-jerker moment, as WWE Champion Eddie Guerrero embraced the newly-crowned World Heavyweight Champion Chris Benoit, showing how 2 friends had reached the mountaintop.
I truly believe this show is a bit underrated. We all know it featured a classic between Shawn Michaels and Chris Jericho, as well as a killer main event between Brock
Lesnar
and Kurt Angle. It also had a very good opening match for the Cruiserweight title between V1 Matt Hardy and the
Wrestlemania
debut of Rey
Mysterio
. The Undertaker handicap match was so-so, but it also featured the last match between The Rock and Stone Cold Steve Austin. This show is solid, and still holds up today.
A lot of wrestling lore and lasting images come from this show. Featuring everything from King Kong Bundy squashing Little Beaver, to a "Loser Must Bow" match between Harley Race and Junkyard Dog, to Butch Reed's Pay-Per-View debut against Koko B. Ware. There was a solid back-and-forth match between Jake Roberts and Honky
Tonk
Man, as well. Not to mention, one of the greatest matches in wrestling history, between "Macho Man" Randy Savage and Ricky Steamboat for the Intercontinental title. The show culminated with the legendary encounter between Hulk Hogan and Andre the Giant, in which Hogan body-slammed the 8th wonder of the world, and captured the imagination of not only the 93,193 in attendance, but the entire wrestling world.
I have no doubt in my mind that, top to bottom, this is the greatest WrestleMania of all time. Everything about this show fired on all cylinders, and had you on the edge of your seat. From the triple threat Hardcore title match between Raven, Big Show, and Kane, to an excellent IC title bout between Chris Jericho and William Regal. An absolute technical clinic was performed between Chris Benoit and Kurt Angle, as well as a solid European title match between Eddie Guerrero and Test. We also saw the street fight between Vince and Shane McMahon, which culminated with Linda coming out of her comatose state and kicking Vince straight in his "grapefruits." After that was the infamous TLC 2, between The
Dudleys
, The
Hardys
, and Edge & Christian. An absolutely brutal match that included my favorite spot ever, when Edge jumped off of a ladder to spear Jeff Hardy, who was hanging from the Tag Team titles. The night culminated with the 2nd of three WrestleMania encounters between The Rock and Stone Cold Steve Austin. That night, the unthinkable happened, as Austin turned heel and aligned himself with Mr. McMahon. This show is an action-packed event that reminds all of us why we became fans in the first place.