Speed on the Beat here, taking a break from my usual EOTR habits (critiquing episodes of RAW, plugging my album, et cetera) to implore you to put your eyes on the ring and our newest "All Eyes On..." profilee, Luke Hawx, a man who puts his life on the line for a living in and outside the ring (more on that later).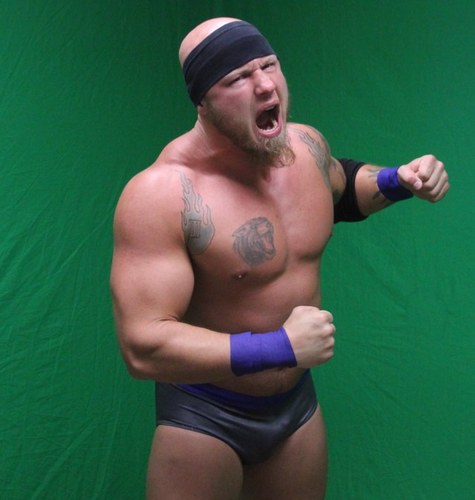 Trained by Vic Grimes (yes, that Vic Grimes) after attending several independent shows as a youngster, Luke made his professional debut in the 1999 in Pensacola, Florida. Inspired by legends Mr. Perfect and "Ravishing" Rick Rude, Hawx then appeared in XPW in 2002 as Perry Douglas before settling into the persona of Alter Boy Luke. As Alter Boy Luke, a persona influenced by...well, an alter boy who was a high flier, Hawx made his mark in XPW. In XPW, he held the XPW King of the Death Match title and even engaged in a feud with his mentor.
Upon XPW's dissolution, Luke found himself in NWA and the predecessor to the modern day TNA, where he continued his attention-grabbing ways. From here, he found himself engaged in feuds with practically everyone imaginable in the indie world. Around 2008, Luke adopted the name many newer fans have grown to known him by, Luke Hawx, dropping the alter boy image for "huge f***in' arms." Never the man to stay in one place (it's seemingly in his blood to fly high and hit hard), Hawx found his way into promotions such as WSX, MCW (winning the Shane Shamrock Memorial Cup in 2013 and competing in a ladder match with Matt Hardy at 2014's Shamrock Memorial Cup for the MCW Championship; this match was part of a feud that's spanned over a year), CZW, JCW, WWE, Extreme Rising, and his own WILDKAT Pro Wrestling.
Aside from kicking ass and taking names in the ring, Hawx has built quite the reputation as a stuntman. Appearing in at least twenty films and television series, Hawx has done work on seveal Jason Statham films, most recently 2013's Homefront.