Or..."The One Where Lesnar Puts Butts in Seats after The Bellas Force Butts Out of Seats"





Speed on the Beat here with a preview of the upcoming RAW, the go-home show for Night of Champions. Now, in the past couple months, go-home shows have been between slightly craptastic and infinite sadness. I mean, any time Brie and Stephanie close a show calling each other female dogs, you've got a problem with consistency. Apologies for any cynicism in advance.




What We Can Expect:




A.J. Lee and Paige will continue their Mickie James/Trish Stratus angle while fanboys cream themselves over a feigned kiss between the two and hate CM Punk for marrying A.J. Lee.



John Cena will give another rousing promo.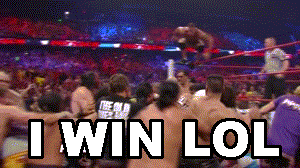 This promo will include:
the idea that he's the voice of the voiceless Make-A-Wish kids
the idea that anyone who isn't named John Cena is not able to be John Cena (duh)
the idea that Brock Lesnar is Satan because he's a part-timer and not John Cena
jokes about Paul Heyman (way to be a star, John)
how he's going to leave Brock in a pile of...red liquid, and pee-pee, and puke
at least one "bitch," "damn," or "ass," to make him edgy and happening
Rusev and one of the blacks Mark Henry will have some sort of ridiculous schmozz because they don't want Rusev to lose a match (I mean, how else will they feed him to Cena and/or Reigns as a Bulgarian all-you-can-bury fest?)
Because, apparently, we all serve the same purpose in today's WWE.
Beekeeper Kane Malibu Kane Summer Beach House Kane Corporate Kane and Randy Orton getting involved with Roman Reigns.
Seth Rollins feuding with Roman Reigns because Dean Ambrose is over as all hell and is filming a WWE Studios movie (see the sense this makes?)
Something, something, something, Bella. Something, something, something, slap. Something, something, something, I turn to Monday Night Football and/or shoot my TV because I'm tired of this sadness.
So, there you have it. Speed on the Beat's Five Six Points for RAW. Now, keep those eyes on the ring and if my premonitions come true...pray for our souls.