Today, we will look at dream matches in two different perspectives. The first perspective is for Wrestlemania 31. The second perspective is on matches that we've never seen happen period. If you pay attention, you'll see some matches actually coincide. Jon and Nathan teamed up for this interesting concept, so let's get started. This list was done by @BigJonDaLegend, and it's for Wrestlemania 31. The list is as follows. My first match would be Dean Ambrose vs The Rock: The Unhinged one vs The Great One. Now I don't see Ambrose turning heel anytime soon so this will be a face vs face match up. The WWE Universe has enough love for both to go around right? This match would ideal make Dean Ambrose as the official leader of the new era of WWE. As Ambrose isn't really PG
rated kind of guy but he's not full blown attitude era either. Then you have the Rock. who's
gonna
give you greatness on the Mic. I mean
just these two talking will sell out an arena alone. The match should
at least a 4star if not match of the night.
If The Undertaker is going to wrestle one more time even
tho
the streak isn't on the line it should be against one man, one legend, the one and only Icon Sting. Just to make it mean even more careers should be put on the line.. Sting has never wrestled in WWE so any life long wrestling fan has imagined the great things he would accomplish if he had joined WWE instead of TNA after WCW was purchased . They don't need much time to tell the story that they want to tell, but we all would be emotional invested in the outcome. The
Dead
man
shocking lost last year but does he have enough pride and fight in him to defeat Sting. And can sting a man career is nothing short of the hall of fame beat the
Deadman
at the event he had dominated for so many years.
Wyatt beats to a different drum while Triple H
leads the authority.
The K
ing of K
ings loves nothing more than to shine bright over the active roster but Bray is the eater of world's and loves the darkness.
Kayfabe
or not, Bray needs a big time match this year and he deserves it, as his promo and vignette work has been amazing. He is not the typical anti authority character, but HHH isn't the typical authority figure. Their storyline would be great and pretty organic with HHH putting Bray over, which is best for business.
Brock hasn't fought anyone who hadn't previously crossed paths with except he who shall not be mentioned *cough *cough CM Punk . This would be a fresh match for fans to see and care about. Also gets the Swiss Superman a chance to showcase his strength against a legit bad Ass. Add Paul
Heyman
and the fact that
Ce
saro
is a former Paul
Heyman
guy who is desperate to prove to the WWE brass that he is a top guy you have the perfect storm for WM31. The brute strength of Brock
L
esnar
and the brains of
Heyman
vs the strength and brains of
Ce
saro
.
As my wife says "
someone needs to run Brock over with a bus
a few times cause the first time is just
gonna
dent the bus". I think
Ce
saro
will make
Lesnar
know that he is in a fight even though he won't come out on top.
Hoping both are healthy,
to see these to great technicians
in a 30 minute falls count anywhere Iron man match would be a dream match to say the least. No doubt in my mind if both are healthy they will dazzle spectators with their counters and submission prowess. The stipulation of falls count anywhere allows for a few different endings as well as helping this match standout even
though
it
doesn't
need any help.
My WM 31 would send 3 future Hall of Famers (
Sting, Undertaker, and Angle) out in grand fashion. HHH and The Rock will bridge the gap between past and present and allow the future of WWE to shine bright. WWE would have 4 new pillars to build on with
Bray Wyatt, Dean Ambrose, Antonio
Cesaro
and Daniel Bryan.
By Nathan Neumann
Nathan here and since I need to keep myself occupied on the site until Ring Of Honor starts airing new episodes of ROH TV. So here goes....
Sting vs. The Undertaker
This is probably on the top of every wrestling fans list of matches that they never got to see and now it may never happen. The Undertaker made his debut at the Survivor Series in 1990 and in 1991 he defeated Jimmy Superfly Snuka at Wrestlemania 7 to claim his first victim in a long list of wrestlers of whom he would defeat to create what was known (up until Wrestlemania 30 anyway) as the Streak. At a time where WWE and WCW were at war, The Undertaker was one of two guys (the other being Shawn Michaels) who never made the jump to WCW. The other man in this equation is the iconic Sting, a man who has never stepped foot in Vince McMahon's ring. He is without a doubt the most successful wrestler of our generation to have never worked for WWF/E. There was a rumor that the WWE was trying to get Sting for Wrestlemania 27 in order to do Sting vs. Taker at said event. There is also a popular rumor that the original 2/21/11 vignettes were originally meant for the man they call Sting. Sting has admitted in interviews that at the time he was close to signing with the company but it didn't happen. Fast forward to 2014 a year where Sting was included in WWE 2K15 as a pre order exclusive, could the match be on the horizon? Or could we see Sting finally make his long awaited WWE debut in the ring opposite someone other than the Undertaker? Only time will tell and that's the fun of being a wrestling fan.
Stone Cold Steve Austin vs. Hulk Hogan
This is a match that I really wanted to see back in 2002 and according to Stone Cold Steve Austin, it was supposed to happen at Wrestlemania 18. Hulk Hogan was the most popular wrestler of the 1980's bringing wrestling to the forefront and giving it the national exposure that it has today. He was the WWF World Champion for four years and the fans loved him. Hulkamania was running wild everywhere and you couldn't escape it. He would go on to lose the title at Wrestlemania 6 to the Ultimate Warrior and he would never be the same again. However upon his return to WWE in 2002 after leaving the WWE for Ted Turner's WCW in 94, when Vince McMahon was promoting the "New Generation", we were close to seeing him meet the most popular wrestler in the 1990's Stone Cold Steve Austin. Stone Cold Steve Austin rose to prominence in the WWF after arriving there in 1996 after being fired from WCW by executive producer Eric Bischoff. He would have a short stint in ECW prior to jumping to WWE. WWE couldn't figure out what to do with him right way saddling him with the Ringmaster gimmick and giving him a mouthpiece in Ted Dibiase as well as the Million Dollar Championship. Eventually Steve pitched the idea to Vince McMahon about changing his character and Stone Cold Steve Austin was born soon after. He would go on to have an amazing match at Wrestlemania 13 with Bret The Hitman Hart (my personal favorite match of all time) in a losing effort in a submission match after he passed out from excessive blood loss. Fast forward a year later, where he would win the WWF Title and rise to prominence defeating arguably the greatest performer in WWF history, The Heartbreak Kid Shawn Michaels. Fast-forward to June 2002 where Steve Austin walked out of the company apparently fed up with the creative direction of his character and not getting a match that he wanted back at Wrestlemania 18. According to Austin he was supposed to have a one on one match vs. Hollywood Hogan at the aforementioned event, but the WWE thought that Hogan vs. The Rock was the better match. As a fan of Austin, I highly disagree and I feel this match would have done more business for the company. I had no problem with the Hogan vs. Rock match, but Hogan vs. Austin will always be a huge what if to me.
Bret Hart vs. Kurt Angle
Like the previous two matches that I mentioned in this article, this match at no point could have happened. By the time Kurt Angle made his debut for the WWE in 1999, it was long after Bret Hart had left due to the Montreal Screwjob on November 9, 1997. However, there is no doubt in my mind that if The Montreal Screwjob hadn't happened then Bret would have stayed and we would have had a match that could have been considered one of the greatest matches of all time. However we will never know how good this match could have been.
Daniel Bryan vs. Kurt Angle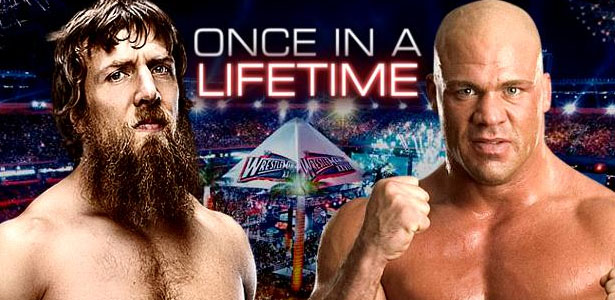 This is another match that at no point could have realistically happened (unless you believe the articles claiming that Kurt Angle will return to the WWE and they will let him wrestle), but I feel this match could have been a masterpiece. Kurt Angle at one point in time was considered by many to be the greatest wrestler of his generation and many consider Daniel Bryan aka Bryan Danielson to be the best all around wrestler in the world today (sans injury). If these two men could have met in the ring, it would have been a work of art and a bonafide masterpiece. However, this match will probably never come to fruition because even if Kurt Angle signs with WWE, I doubt they would let him wrestle or that he could pass their physical.
Trish Stratus vs. Beth Phoenix
The last choice of mine for this list may shock you, but women's wrestling still has its appeal (just not in today's WWE sadly). One of the greatest women's matches I've ever seen was Mickie James challenging Trish Stratus for the WWE Women's Championship. I got to witness it live and in person, and it was a damn good match by women's wrestling standards. The storyline was great (its since been duplicated to no avail) and the match definitely delivered. While Trish Stratus went into the match the face and Mickie the heel, the fans thought different. It was truly bizzaro world in Chicago Illinois that night as Mickie James received all of the cheers and Trish the boos. Beth Phoenix in her own right was a fantastic women's wrestler she really stuck out like a sore thumb (in a good way) in the climate she was in because none of the other women wrestlers could hold a candle to her except for Natalya Neidhart. Speaking of Nattie, her and Beth would go on to form the Divas of Doom tag team that terrorized the entire Diva's division while Beth Phoenix was the Diva's champion. I have heard rumors of this match happening back when Beth Phoenix was still active, but now that Beth Phoenix has retired and since Trish Stratus remains retired to this day, this match is a big what if scenario in women's wrestling. Would it have been a great match? We will never know the answer to that question.
Well that does it for me and this list of fantasy match ups, what are some of yours? Be sure to let us know by following @eyesonthering on twitter and letting us know what some of your dream matches would be. Until then I am Nathan saying so long for now and keep your eyes on the ring for some great content from all of us at eyesonthering.blogspot.com