Hey all, Speed on the Beat here with some thoughts about tonight's edition of RAW. Now, first and foremost, I'd love to see the A New Day stable come out on some "Hands Up, Don't Shoot" stuff (since WWE loves to claim it has its finger on the pulse of hot-button issues and is a biting piece of social commentary), but instead we'll probably get Xavier, Kofi, and Big E coming out like the Christian Hip-Hop Wrestling Version of the Mighty Morphin' Power Rangers. At least they're not shuckin' and jivin' (yet), right?
Anyhow, now that that piece of social commentary is out the way, tonight's edition of RAW comes as somewhat of a precursor to the Stone Cold/Vince McMahon podcast airing on the Network tonight. It's also coming a week into another new day--the Post-Authority era. With that in mind, here are some things we can probably expect.
1) We won't hear anything about CM Punk. As an aside, his t-shirts are pretty cool; especially digging how he brought back the "Welcome to Chicago Motherf***er" mantra. Wonder if this was part of his dealings with WWE, that he could start his own...Pro...Wrestling...Tees site?
Return...imminent, right?
2) Ziggler will be built up, hopefully not to be torn down again. Last week, Dolph Ziggler was the sole survivor of the Cena/Authority match (with a little help from THE STINGER!!!). I'd expect his momentum to continue, possibly with some more Cena leechi--I mean, "pairing" (yawn). Seriously, it really sucks that the only person to give a rub in WWE is Cena. This is why WWE needs to create more stars and not build-a-star, create-a-wrestlers either. Daniel Bryan is there (whenever he returns), Ambrose is almost there (unless he completely loses his command on the mic), Rollins is there, Ziggler is getting back there, and (for the sake of argument) Roman Reigns is getting there as well. It's good that we're getting new stars. I just wish they didn't all have to go through Cena. But, he's the number one guy, for better or worse.
Let's hope this isn't what's really going to happen with Dolph.
3) Something about The Rose Bunny. I'm surprisingly not as irked by this feud as I thought I'd be. It's low-card comedy. It's allowing Adam Rose to show more range in his character and gets him back to his Leo Kruger ways (kind of). Plus, the Bunny, while taking up a couple minutes a show, isn't taking up that much valuable time. I just hope the reveal ends up being someone that'll get a "holy s***" reaction. And, no, conspiracy theorists, it's not Punk. 4) A.J. Lee will respond to The Bella Twins. Look, I like A.J. Lee. I like parts of The Bella Twins (sorry for sounding sexist, but they still don't do much for me, wrestling-wise). But, for the past year, the Divas division has been dominated by two storylines: A.J. vs. Paige and Brie vs. Nikki. Now that they've coincided (it was inevitable), the resulting feud has been boring, to say the least.
5) There will be hype for the Stone Cold/Vince video podcast. We may get a Stone Cold appearance of some sort, if you believe the websites.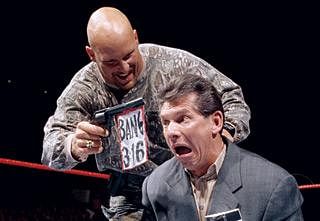 6) Bray Wyatt and Dean Ambrose will continue their feud. It's brought us great moments. But I find myself not really caring about the why in this feud, more so the "how are they gonna beat the crap out of each other now?"
7) A slew of other stuff that I honestly don't care about at the moment. Make me care, WWE. Make. Me. CARE!
So, that about does it for me. Keep your eyes on the ring and your nose away from candy.