By True God (@TrueGodImmortal)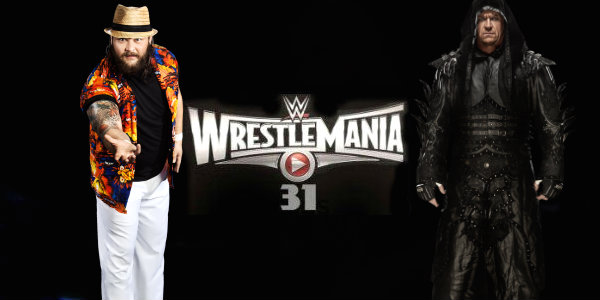 Could this be a reality? True God breaks down the reasons why this feud makes sense.
There are some things in professional wrestling (not sports entertainment) that are inevitable. There are some matches, some feuds, and some moments that just
HAVE
to happen. I believe that at WrestleMania 31, we will see one of those very things. No, I'm not referring to Brock vs Roman (which should NOT happen anyway), or even Sting vs Triple H. I'm talking Bray Wyatt vs The Undertaker.
From the moment Bray Wyatt entered the scene, the comparisons started to fly. Bray, being billed from the swamps of Louisiana, oozes a creepy factor that hasn't been seen since Ted Dibiase introduced a ginger-haired Deadman. From mind games to seemingly supernatural abilities, 'Taker has staked his claim as the greatest character in professional wrestling history. As the business continued on, it seemed as if characters were becoming extinct in WWE. With the "death of kayfabe," characters such as Mordecai, The Boogeyman, Kevin Thorn, and so on, were regulated to being comedy acts almost and not taken seriously (Ed. Note: Sadly, two of those characters were the same person. Think about that).
Even 'Taker himself altered his Deadman character to keep up with the times during the Attitude and Ruthless Aggression eras (Biker Badass Taker was merely the real Mark Calloway with the volume turned up). In this current "Reality Era," most of the stars have roles, but not necessarily characters. There is one man who has a character, who is able to captivate the audience and blur the line between reality and storyline: Bray Wyatt.
Bray has been on the main roster for less than two years, but from the moment he feuded with Masked Kane (his first main roster feud), the fans couldn't help but wonder "when is he going to one on one with the Deadman?" Will it ever happen? With Bray's recent promos such as the one above, it seems we are headed in that direction. And this is possibly the most exciting Taker feud for WrestleMania in quite some time. Now, you, the reader, might be wondering how I came to this assessment and its quite simple: there is no streak to worry about or any outside elements. This makes the feud and its outcome completely unpredictable.
Before WrestleMania 18, there wasn't really a big deal made about The Streak. The Undertaker and his matches had to be sold thoroughly by both performers. The Streak became the selling point and the gimmick for Undertaker and WrestleMania for every year after it was acknowledged. Its importance seemingly hit the high point around WrestleMania 23, when Batista put his World Heavyweight Championship on the line against The Streak. From there, Taker would be involved in feuds with Edge (and his entire faction), HBK (two Manias in a row), HHH (ditto), CM Punk (which was great), and Brock Lesnar, who ended the streak last year. What all those feuds lacked, for me, was unpredictability. I never believed for one moment that Edge, HHH, HBK, Punk, or Brock (until it happened) would win, because The Streak was necessary. It had to continue. It was Taker's legacy. Now, with that gone, we get a whole new perspective that we haven't seen.
No longer is Taker fighting to keep his streak intact. No longer is a hungry competitor looking to conquer that Streak. No longer is the outcome of The Undertaker match as obvious as it was. This is an entirely new dichotomy. You couple that with the fact that Bray has taken his place as a Lord of mind games? Now, Taker has to put in effort when selling his matches. We get more concise promos, more mind games, more intensity than we've seen in years from him.
In some ways, Bray is a CHALLENGE for Taker. He's younger, fresher, armed with a silver tongue and an innate ability to manipulate each opponent. When the Undertaker is ON, there are very few who can keep up with him. Taker has to be ON in order for this feud to be one for the ages. A clash of eras and generations. A clash of mind game manipulators. The biggest legend of WrestleMania versus a new hungry lion looking to stake his claim and grow his legacy. We are on the perfect train wreck for WrestleMania. And the moment that the gong hits to signal the return of Taker, only two words can be uttered from us all...